ITM Buyer Survey Reveals Priorities and Challenges for 2022
16 Dec 2021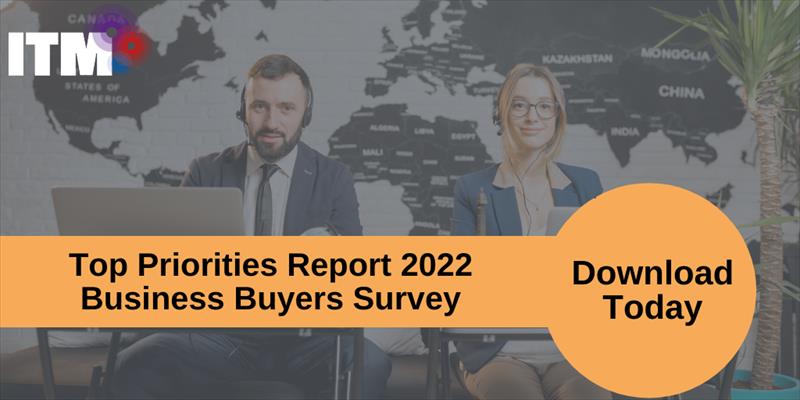 'Managing the return to travel' has made its debut at number one on the list of top ten priorities for business travel manager in 2022, closely followed by duty of care, traveller wellbeing and sustainable practice, according to the Institute of Travel Management's (ITM) annual survey of buyer members. However almost half of respondents feel that their online booking tool is not ready to support delivery against these priorities.
Over a two-week period at the end of November 2021, some 100 corporate travel buyers, managers and heads of travel, with a mix of global, EMEA, UK and Ireland responsibilities, completed ITM's Top Priorities for 2022 survey to explore travel programme trends and challenges for the next 12 months.
Whilst sustainability appears to have remained in fourth place as per 2021's priorities, it has in effect moved up one step, taking into account the newcomer at number one. Diversity, equity and inclusion move into the top ten for the first time, rising two places to rank ninth. And budget control has fallen by two places to sixth place on travel buyers' agenda.
Most buyers (48 per cent) expect their travel spend to be down by 50 per cent in 2022 indexed to their 2019 volumes. They will also allocate only 25 per cent of their budget to internal meetings, compared with 50 per cent in 2019.
Besides Covid-19 the top challenge buyers will face when it comes to managing travel in 2022 is the complexity of border restrictions, quarantine and testing protocols. In fact 88 per cent of respondents also felt that this would be the top factor to negatively impact on their confidence in business travel levels next year. EU legislative changes relating to travel will also knock confidence levels – 49 per cent of buyers ranked this factor in second place (moving up from fourth place in 2021).
Asked if their travel programme was fully prepared for managing new European travel regulations, 46 per cent of buyers said 'no'. This compares with 45 per cent last year, indicating little progress has been made as Covid complexities and low travel volumes masked the required changes.
Influencing sustainable practice ranks as the second biggest challenge that buyers will face when it comes to managing travel in 2022. However, 40 per cent of buyers said that they currently do not stipulate suppliers must comply with sustainability requirements. Nevertheless travel policies are evolving to reflect sustainable travel practices. In terms of air travel, 36 per cent of buyers said that their policy allows travellers to select a sustainable option even if the cost was higher. This is up from 30 per cent in 2020, and 17 per cent in 2019. For the first time, the ITM survey also asked buyers if their travel policies allow booking sustainable ground transport practices regardless of cost. Almost half of respondents (47%) said that they would favour sustainable ground transport practice over cost.
Other findings include:
51 per cent of buyers will not make any changes to their TMC commercial models as a result of the pandemic; 38 per cent will switch to a hybrid model; only 2 per cent said that they would switch to a subscription model

58 per cent expect to see a modal shift in air to rail travel in 2022 compared with 33 per cent last year.

58 per cent of buyers said that the pandemic has impacted favourably on their profile and value within their business. Only 5 per cent said it had been affected less favourably

Almost all buyers have taken on additional responsibilities during the pandemic including corporate cards, traveller guidance and safety, risk management, and engaging with senior executives regarding the return to travel

Over one third said that they are actively involved in their company's rationale about the value and ROI of an in-person meeting.
Scott Davies, CEO, ITM commented: �The results of ITM's annual buyer priorities survey are always hotly anticipated as they give such an accurate insight into the key issues and challenges facing our buyer members for the year ahead. This is not only enlightening for the whole business travel community, but enables us to focus on continuing to provide essential support, guidance and educational programmes to our members. This is even more important as buyers manage the return to travel and navigate so many different complexities, challenges and priorities.�